We are one of Western Australia's biggest largest and most experienced recreational skippers ticket (RST) providers.
Don't want to have to drive to Perth to do your skippers ticket?
Want to do your skippers ticket in the waters YOU plan on boating in?
Want expert training from Western Australia's biggest skippers ticket provider?
You've come to the right place.
We are the number one Mandurah based Skippers Ticket training 7 days a week. Sunrise to Sunset.
We have over a dozen full qualified mobile professional instructors operating every day of the week, using our small fleet of training boats. Our Skippers Ticket Mandurah trainers are local and they know the area well, ensuring that you'll be getting expert tuition and local knowledge about the waters you'll be learning in. Mandurah and boating go hand in hand and getting your recreational skippers ticket provides you with the best way to enjoy everything that Mandurah has to offer. Getting your Recreational Skippers Ticket helps to ensure that you are competent behind the helm and understand the rules of water. Fortunately, obtaining an RST is surprisingly inexpensive and takes very little time at all. Just a bit of self study, practice questions, a theory exam and practical assessment is all it takes to become a certified recreational skipper. Skippers Ticket Mandurah not only ensures that getting your skippers ticket is easy, we do our best to make sure it is enjoyable too. Our trainers haves years of experience in boating and working at sea. We don't have to fake our enthusiasm, we are passionate about the marine environment and boating. Training new skippers is something we want to do, not something we have to do. We are always happy to give that extra bit of advice and put in that little bit of extra effort when required. We love what we do and we hope you'll have a great time training with Skippers Ticket Mandurah.
Skippers Ticket Prices
We provide a variety of training options to suit your expected skippers ticket prices. We also cater our courses to the individual needs of each student. If you need more time to get comfortable handling a boat we can work with you until your are confident. We don't rush our students.
Review our different price options and work out what you think works best for you. If you're unsure of how much experience you might need for each category, feel free to contact us. As a general guide, for people with minimal to no boating experience we strongly recommend the Special Combo course. This gives you the extra time needed on the water to increase your confidence and boat handling ability before being assessed. It also offers a secondary attempt on the theory exam if you are unsuccessful the first time around. If required, before your second theory exam attempt, our trainer will be happy to go over any questions you may have had trouble with.
If you've already had some experience handling a boat, pulling up to a berth etc, then the Standard Combo is right for you. However, even for experienced sea salts, we do strongly recommend a thorough brush up on the theory exam requirements as at least 34 our of 40 answers MUST be correct to pass.
ALL our booking options include free vessel hire. However, you are welcome to use your own vessel if you choose.
Plan | Price

Features

Standard Combo

$200 – (or $180 if booked and paid online.)

For average, semi-experienced boaters
Online study tools and practical training
Includes:
$50 – Theory Exam
$50 – Practical Test
$100 – 1 Hour Practical Training/Revision
Free boat hire

Special Combo

$300 – (or $270 if booked and paid online)

For less experienced boaters
2 hours practical training
Online study tools and practical training
If you are an absolute beginner, we recommend avoiding Saturday mornings, due to increased boating traffic.

License Transfer

$50

Have an interstate or overseas boating license/ticket that you would like to transfer?
We offer a transfer service on valid and current eligible tickets.
Skippers Ticket Mandurah
For more recreational skippers ticket information and news, visit Skippers Ticket EDU.
Useful Marine Weather and Safety Links: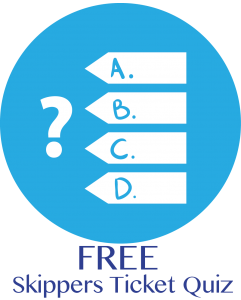 Australian Marine Safety Authority